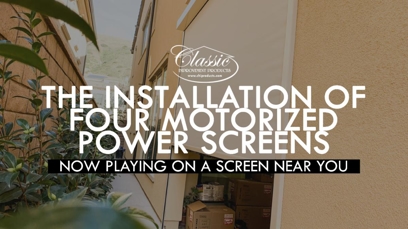 In a world where beautiful homes have California rooms and patios that their homeowners can't enjoy without unwanted pests invading, one company can save the day. Classic Improvement Products' agents, Cesar and Oscar, embark on a mission to give a new home in Irvine, California the privacy, shade, and pest prevention the homeowner so desperately needs.
As the home is under construction, Cesar and Oscar must maneuver their way around other construction products, go to chilling heights, and maintain their precision and attention to detail. Can they do it all before the day is over? Find out in the blockbuster of the season--Classic Improvement Products Presents: Installing Four Motorized Power Screens in Irvine, California.
OK, we know that was dramatic, but still, our installers are superstars, the video is awesome, and you can click the graphic below to watch it.