We recently had a customer who was afraid to give us a 50% deposit for Interior Shutters. He had given a 50% deposit to another company in Los Angeles County, California who went out of business and never returned his deposit. We went to their Yelp page and saw that he was not the only customer to be stolen from.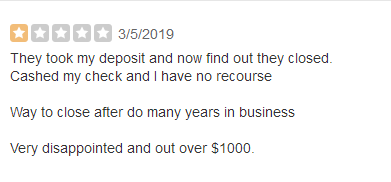 Please be cautious in this industry. If a company is not rated highly on Yelp and has no proof of being licensed, bonded, or insured, we understand how scary that can be.
That is why we stress so often that we have an overall rating of 5-stars on Yelp from 200+ of our customers. We also emphasize the fact that our Contractor's License number is 858310, and that we are fully bonded and insured. Our reputation precedes us, and we want all of our customers to know that we can be trusted.
Go to yelp.com and search "Classic Improvement Products" to see what our customers are saying about us.