Once upon a time, there were really cool homeowners, not unlike yourselves, with a new home in Southern California. The homeowners were extremely excited because this was their first ever home with a California Room! Inviting friends and family over, lounging in the California Room, and simply enjoying the fresh air with company were delights they always dreamed of partaking in.
One afternoon, the homeowners, excited to break in their new California Room, decided to try it out. They grabbed a good book and an ice-cold glass of lemonade and headed outside to get comfortable. But then something happened.
As it turned out, they weren't the only ones excited to lounge in the new California Room. A couple of flies uninvitedly started to join them. Then the angled afternoon sunlight began to beam directly into the room, making the homeowners begin to sweat and wave flies away. This was not at all what they imagined. To make matters worse, they couldn't help but feel uneasy about the fact that any of their neighbors with windows facing the California Room could be watching them. They knew there had to be a solution out there to make their dreams of actually enjoying their California Room a reality. And there was!
These very smart homeowners called us. We assured them that our custom-built Motorized Power Screens were created specifically to bring dreams like theirs to life. They purchased one to perfectly match their home's color palette, and now, at the touch of button, they can lower the Motorized Power Screen and enjoy the shade, bug-prevention, and privacy! Classic Improvement Products saved the day, and these homeowners lived happily ever after.
The End.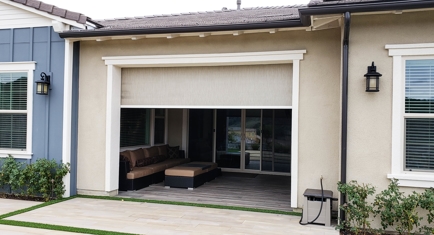 Call (866) 567-0400 or click here to schedule your measuring appointment today.​