Shower Doors in Orange County
Southern California's Premier Shower Enclosure Experts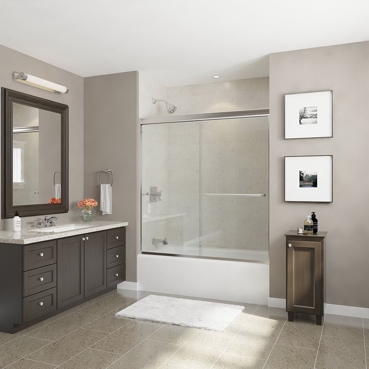 Bypass shower doors play an important role in your bathroom as they add to the entire style and design of your space. Bypass (sliding) shower doors consist of two panels hung from an upper track where one of the door panels passes behind or in front of the other. The bypass shower doors we offer require a top header (track), sill (bottom guide), and side jambs.
If you're remodeling your bathroom or looking to replace an old, ugly shower door, call or visit Classic Improvement Products today. Conveniently located in Orange County, our expertise and quality products cover all of Southern California.
Framed Bypass Shower Doors
A framed bypass shower door is typically the most cost-effective because they use a smaller thickness of glass with an aluminum frame around all four sides of the glass giving it that framed-in look.
Frameless Shower Doors
A frameless bypass shower door is typically the more expensive option, but they also come with a much cleaner look because they use a larger thickness of glass without a frame on any side of the glass. If you are looking for an updated first-class look then go with a frameless bypass shower door!
To learn more about our custom shower doors, select one of the links below:
4 Reasons to Consider a New Shower Door
1. The door doesn't close all the way or keeps getting jammed - The whole point of a shower door is to open and close, so if it's not even closing properly then it's hardly doing half its job. Contact us if you want to be able to close your shower door!
2. Rust or corrosion on the frame - Since shower doors come into contact with water on a regular basis, they are susceptible to rust and corrosion. Make sure to take care of this ASAP because the problem will only get worse.
3. Your shower door leaks - Is there water all over the floor after you shower? Inspect your shower door for any cracks or gaps and consider having the door replaced.
4. Your shower door glass is permanently etched by hard water - Southern California is no stranger to the ugly effects of hard water. If your shower door glass is clouded and streaked with water spots that won't come off no matter how much you scrub, it may be time for a new shower enclosure.
Let Classic Improvement Products help you beautify your bathroom with a new framed or frameless shower door. Call (877) 960-0594 today or visit our Orange County showroom today!