Job details
Salary: $13 - $17 an hour
Number of hires for this role: 1
High school or equivalent (Required)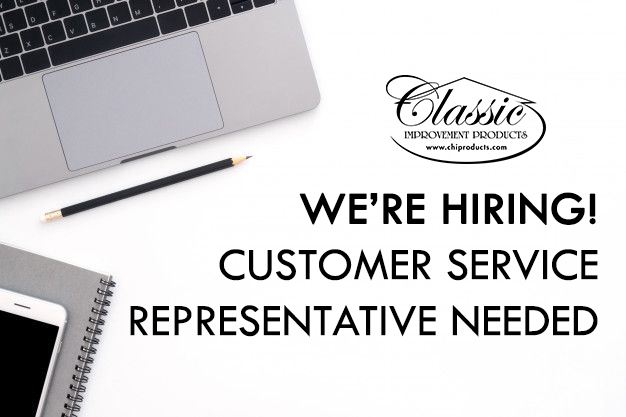 Full Job Description
How would you like to join the office team of a growing, family oriented company who creates and delivers works of art for clients all over Southern California?
Classic Improvement Products is looking for someone who is energetic, hardworking, dependable, self-motivated, proactive, team oriented, outgoing, personable, happy, friendly and a great multi-tasker!
The position available is full-time for 40 hours a week . We are looking for an Order Entry/Customer Service Representative with excellent computer skills that will work in our office in Anaheim Hills, California answering all incoming calls, processing orders and helping customers with their purchases, etc.
If you are Order Entry/Customer Service Representative that we are looking for you'll have a strong work ethic, positive attitude and excellent communication skills. We will be putting your skills to the test. Your friends would describe you as very friendly with a can-do attitude and a passion for helping people. You would also be trustworthy, punctual and always be bringing new ideas to the table.
You will have great attention to detail and be someone that is always willing to learn. As a CSR you are the first person accountable for providing customers with great service and helping them with scheduling appointments. You'd be eager to take this opportunity to learn and grow with our company, and achieve well above average results.
If you are a stay at home parent who is looking to re-enter the work force a college students or just looking for a new challenge at a fast paced work environment, this is the perfect fit for you!
This is a full-time position for the right person. If you are able to work 8 hours a day between the hours of 8am – 5pm Monday -Friday and are ready for a new opportunity, please apply here.
Job Type: Full-time
Pay: $13.00 - $17.00 per hour
Benefits:
Schedule:
8 hour shift

Monday to Friday
Supplemental Pay:
Education:
High school or equivalent (Required)
Work Location:
Work Remotely:
To apply, send your resume to resumes@chiproducts.com today!