Why The "Cheaper Route" Isn't Cheaper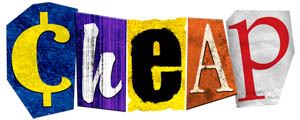 Every time we hear a potential customer say they went the cheaper route, we laugh silently to ourselves because deep down, we know it's not really the cheaper route, and they'll be back to buy from us. The problem with going the cheaper route is having to buy the product twice in order to have it done correctly–once from the cheaper company, then when it breaks shortly after the install or you realize the craftsmanship isn't up to par, a second time from us to receive the product you should have had from the beginning.
"You get what you pay for" is not a myth in this industry. It is the absolute truth. We are licensed, bonded, insured, 100% employee-based, family run, and 5-star rated! Save yourself the money and the hassle, and go the quality route.
Give us a call at
(877) 960-0594
or
click here
to purchase any of our products today!