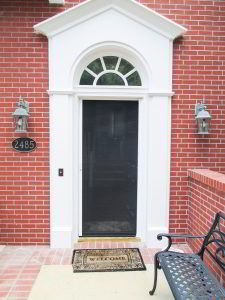 StowAway Retractable Screen Door installed on a single, inswing front door with a white frame and black fiberglass mesh.
1) Are you Ready to start up a new business?
2) Are you an existing Retractable Screen Door company looking for a better vendor?
3) Do you currently sell and install Retractable Screens and are you looking for a quicker lead time?
4) Are you looking for a Retractable Screen Door that has more options than any brand in the industry?
If you answered "yes" to any of these questions, and you're located in San Diego, consider becoming a dealer with us today!
We are a family-owned and operated residential, commercial, and wholesale improvement company. We custom-fabricate the "Official Retractable Screen Door of Southern California" right in our Anaheim Hills warehouse! Our Retractable Screen Doors are second to none in terms of quality and the amount of features we offer for customization. We have a decade and a half of experience in the industry, and we are currently one of the leading manufacturers of improvement products in Southern California.
We are the sole distributor of the Stoett product line for California, and we are looking for a San Diego Dealer to support and grow in a massive market. StowAway Retractable Screens are virtually untapped in the San Diego market and we are looking to make a dent. You will be the FIRST active Dealer in San Diego.
Give us a call at (877) 960-0594 to get started!